Carrot Clicks: Our week in taxes, time traveling and tiny parking spots...
by Gabrielle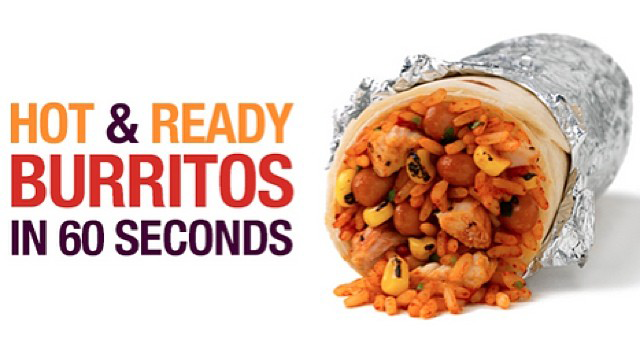 The internet experienced more than an influx of New Year's resolutions this week… In case you were too busy scheduling zumba classes and planning your vegan diet, here's what you missed:
In 2014, taxes will be meaningful, burritos will come from vending machines, and you will be able to use Google Glass to find people IRL (based off of their online dating profiles). Change stress you out? Well, maybe you should get one of the least stressful jobs out there, or be comforted by the fact that the public library isn't making changes - aka no new books (sad).
The #selfieolympics are taking off as the most popular sport of the new year. The Weightless Project is teaming up with wearable tech brands to collect donations for calories burned. And, the food establishment famous for cookie dough shakes, Sonic, is promoting drive-through (faux) fitness. (Maybe people are feeling guilty about the $1million they spent on pizzas ordered through Xbox 360 last year…)
Speaking of gaming (systems), FaceRig lets you become a character through recognition software. Pinterest just acquired a technology that will enable search by faces and objects. Playstation launched a cloud gaming system called Now. Fandango and Samsung will be selling movie tickets directly from trailers on connected tvs. And, MTV became the first network to roll out a fully-optimized viewing experience on mobile.
CES is happening this week (in case your Twitter feed didn't inform you). Some updates to know about: Everyone, everyone, is talking about 'wearable tech." Tumblr announced targeted posts. (Fun fact: The avg. post gets 15 reblogs; the avg. sponsored post gets 10K.) Yahoo acquired Aviate (which predicts apps for your smartphone based on activity and location.) Twitter co-founder Biz launched Jelly, a new social platform best described as Quora meets Instagram. And, The Muppets created fake Twitter accounts to promote their new movie (jk, that's not CES news).
Other cool things: The MTA is going "greenish" and trading metrocards for smartphone payments; Yahoo Sports made a custom GIF creator for fans; and Smart Car released an app to find "tiny" parking spots.
And while technology was a show-off this week, I was more impressed by this life-changing initiative where Walgreens uses Taskrabbits to get your meds… and this block by our boy Oladipo.
But, what are my expert predictions for 2014? Other than you dropping those zumba classes? No idea. Time Travelers aren't using social media, so there's no real way to know. All we know for sure is that you can get a sweet Brooklyn haircut at the new GQ salon at Barclay's center. #YOLO (Yes, I'm bringing that into the new year; sorry I'm not sorry).